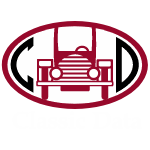 Classic Data
Classic Data is the leading expert in Europe with over 30 years of experience in the valuation of classic vehicles. Its core competence is intensive market observation and correct, vehicle-specific pricing. It offers support in the purchase or acquisition of a classic vehicle by means of appraisals, as well as the training of experts.

CA Auto Finance Suisse SA
CA Auto Finance Suisse is our financing partner for Protaminex-Classic Classic Car Leasing.
With this new, exclusive product, we are in a position to develop customised financing solutions for our discerning customers and, to this end, to finance classic cars according to our customers' wishes and - depending on the situation - to be able to claim corresponding tax benefits.
Interested? Get in touch with us!

The Motor Chain
With the Motor Chain, classic car owners can share the history of their vehicles, authorise service providers or certifiers to make entries and transfer the documentation with the property when you sell the vehicle. Because: Good and certified documentation increases the value of your automotive classic by up to 20%.
The best way to manage, preserve, share and transfer the history of your classic car throughout its life.
Interested? Get in touch with us!